Coming to Mexico was my fallback plan if I couldn't work where I was living in Spring Valley, Arizona. My Social Security wasn't enough to live on there, but my attempts at office work and substitute teaching while recovering from uterine cancer, after the subsequent hysterectomy, chemotherapy and radiation, were all spectacular failures on my part.
I made the decision to move to Mexico, though, not so much as a practical survival measure, but in reaction to Trump's aerial attack on Syria in April. I'd had enough. I needed a break from the militarism, authoritarianism, clasaism, sexism, ageism and divisive politics in the U.S. I tried to make the best of my reduced circumstances, but it didn't feel like I was fully living.
At first, after reading expat blogs in Mexico, I decided to go to Uruapan in Michoacan. At the last minute, though, I found out about a housesitting position in nearby Patzcuaro, and decided to take it. What I found in Patzcuaro was almost idyllic, a small town where I could walk everywhere, and wouldn't need a car.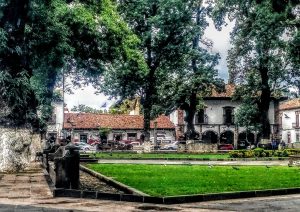 The housesitting position caring for two dogs, two cats, and a yard was okay at first, but turned into a nightmare as the dogs escaped four times, and the younger cat disappeared a few times that last week, too. I decided that housesitting was not for me.
However, I had met a local woman who said she was renting rooms, and we worked out a deal where I have been renting a room in her large antique house with a dozen bedrooms, two inner courtyards, and thick adobe walls. I'm sitting in the dining room right now, because there is a good Internet connection here.
This is a blog that I've had for a few years now that I inherited from my son, but I don't like the layout. I may start a new theme for this travel blog in Mexico.